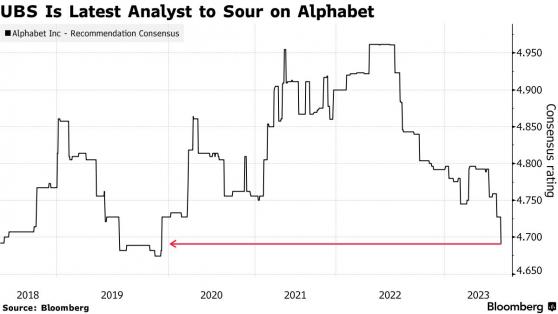 Introduction: In a recent development, Wall Street analysts have downgraded Google's parent company Alphabet and Microsoft, raising concerns about the future growth and valuation of these tech giants. This article examines the implications of these downgrades and provides trade recommendations for investors.
1. Alphabet's Downgrade and Trade Recommendations: Wall Street firm UBS downgraded Alphabet from "buy" to "neutral," citing concerns about its revenue growth and artificial intelligence (AI) transformation. If you already own Alphabet stock, it may be prudent to consider reducing your position or setting a stop to limit further declines. For potential buyers, waiting for a lower entry point or exploring other investment opportunities could be beneficial.
2. Microsoft's Outlook and Resilience: Similar to Alphabet, the downgrades could also impact Microsoft's stock price. However, Microsoft's business is more diversified, with steady growth in segments like cloud computing, office software, and gaming. Consequently, Microsoft's stock may be more resilient and resistant to declines than Alphabet. If you are already a Microsoft shareholder, maintaining or adding to your position could be appropriate. For potential buyers, taking advantage of pullbacks or gradually building a position could be a viable strategy.
3. Fed's Rate Hike and Apple's Stock Price: Apple's stock price may face pressure due to the Federal Reserve's expectations of interest rate hikes. As a highly valued consumer brand company, Apple could be affected by a decline in the market's risk appetite for such companies, potentially triggering outflows. Existing Apple shareholders may consider adjusting their position or implementing stop-loss measures to protect profits. Prospective buyers could wait for a more reasonable valuation or closely monitor new product launches and innovation capabilities.
4. Market Sentiment and AI Leaders Downgrades: Wall Street analysts have recently intensified downgrades for both Alphabet and Microsoft, two prominent AI leaders. This trend reflects concerns about revenue growth, valuation, and the progress of AI transformations. While quantitative ratings for Alphabet and Microsoft vary, large technology stocks remain popular investments due to their growth potential and strong balance sheets. Market-led tactical weaknesses could be viewed as opportunities to accumulate fundamentally strong large-cap technology stocks.
5. Disclaimers: The article concludes with disclaimers emphasizing that the opinions and information provided are for informational purposes only and do not constitute investment advice. Investors are responsible for their decisions and should conduct thorough research and evaluation before making any investment choices. It is crucial to consider individual risk tolerance and financial situation when investing, as all investments carry inherent risks.
Conclusion: The downgrades of Alphabet and Microsoft by Wall Street analysts highlight the challenges these tech giants may face regarding revenue growth and market valuation. Investors should carefully evaluate their positions and consider trade recommendations accordingly. While caution is warranted, large technology stocks still offer potential opportunities for investors who take a long-term view and carefully assess market conditions.